Same day computer repairs in Irthlingborough.
No Jargon, Just Plain English
Every engineer speaks plain English. They can explain exactly what they are doing and why they do it. Of course, if you simply want to leave them to it and receive a report at the end of the job, that's fine too!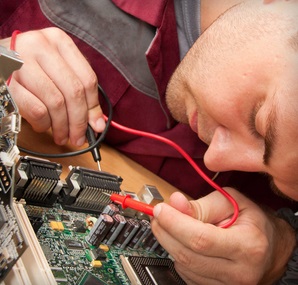 On Call 7 Days
Wellingborough PC repairs are on call 7 days a week to get you back up and running. That means weekdays, evenings and weekends!
Fixed Right, the First Time
All of our work is guaranteed, so you can be confident we will get the job done right
No Surprises
Our pricing varies depending upon the job, so give us a call and we'll explain everything upfront. There will be no surprises.
PCs, Laptops and Servers
Routers, printers, laptops and more – our expert technicians can work on all of your technology.
Our computer doctors can visit your home to quickly and conveniently resolve all of your computer issues. From viruses and printers to networking and back-ups, we'll find the problem and set your equipment straight so that you can get back to doing what's important.
Has your computer been infected by something nasty? Don't worry, we'll clean your computer and install free anti-virus for future protection. We've seen it all and we've gotten rid of it before.
Irthlingborough Computer Repair provides local IT services for small and medium sized businesses that don't have full time IT staff. We can help you start your business or maintain your servers and everything in between.
We replace failed hardware such as hard drives, CD-ROM drives, modems, graphics cards etc. Also we can re-load and re-install corrupt operating systems and applications fix their problems and customize them to your needs.

We fix general and specific hardware faults and configurations;
We install and configure your new PC, printer, scanner, modem, graphic card, digital camera, etc.
We can install, set up, configure and repair or reload your licensed Microsoft software applications or licensed Windows 98/ME/NT/2000/XP/Vista/Windows 7/8 and 10 operating systems.
If the engineer is unable to repair the problem in the first hour, to save you money we will give you the option for us to take the unit back to our workshop to complete the work.
Installing new computer software can be a daunting task for even the most experienced of computer users. We will take the stress and hassle out of the job, and carry out your installations for you. Most installations can be carried out in your own home or business while you wait, causing the minimum of disruption to your computer work.
We are able to install hardware such as items listed below:
Scanners

Digital Cameras

CD/DVD Re/Writers

Printers

Modems

Memory

Hard Drives

Monitors

Sound cards

Speakers

Wireless/Bluetooth adapters

Mouse and Keyboard
We can install any computer software for you and ensure that it is functioning correctly. This can be packages such as Microsoft Office or a whole computer operating system such as Microsoft Windows.
If your computer isn't performing as it did before or you are thinking about upgrading it, we can provide you with expert advice on how to get the most performance for the least amount of money.
For repairs, our technicians will thoroughly diagnose it and tell you exactly what's wrong and how much it will cost to get it fixed. The cost of the diagnosis is deducted from the repair cost should you decide to go ahead with the repair.
For upgrades, the diagnosis will help us evaluate your computer's current configuration and once we have understood what exactly you use your computer for and what you would like it to do, we can help advise on upgrade options so you don't spend on upgrades that will not deliver the improvement you are looking for.
Contact us now to find out more. 07914 934380